LGBTQ Employees Can Now File Discrimination Claims for Sexual Orientation and Gender Identity Discrimination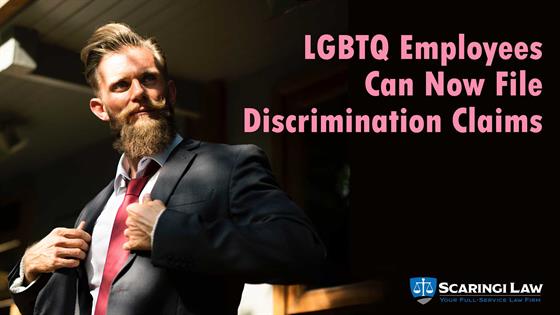 By Scaringi Law
Pennsylvania employees who identify as LGBTQ can now rely on the Pennsylvania Human Relations Commission ("PHRC") to accept and investigate claims of workplace discrimination based on gender identity or sexual orientation. Until now, only those LGBTQ employees who lived in cities, towns, or municipalities with a local law prohibiting such discrimination had a remedy available to them, though often these remedies do not provide for adequate damages or access to the state court system. In early August 2018, the PHRC announced that it would now consider discrimination based on "sex" under the Pennsylvania Human Relations Act ("PHRA") to include not only sex assigned at birth, but also sexual orientation, transgender identity, gender identity, gender transition, and gender expression. And the protections provided by the PHRC are not limited to just employment―they also encompass discrimination in education, housing, commercial property, and public accommodations, all of which are defined broadly.
The Congress and many conservative state legislatures have not been willing to pass legislation protecting LGBTQ employees from discrimination in the workplace despite the fact that hundreds of state, county, and local governments across the country have done so. The result is a patchwork map of areas where LGBTQ discrimination in the workplace is still considered "legal" and where is it prohibited. In an effort to harmonize the law on this issue across all of Pennsylvania, the PHRC decided to issue guidance stating that LGBTQ employees may file charges of discrimination with the agency and the agency will operate on the understanding that such discrimination is unlawful and actionable under the PHRA. It remains to be seen if the Pennsylvania General Assembly will take action against this position by passing legislation that prevents the PHRC from accepting these types of claims.
Interestingly, the federal court system in Pennsylvania is split on this issue. A federal court in the western part of the state found that discrimination based on sexual orientation is actionable under the Civil Rights Act of 1964, whereas a federal court in the eastern part of the state found the opposite. And while two federal circuit courts of appeals have upheld decisions by lower courts finding sexual orientation discrimination actionable under federal law, 11 others have either reached the opposite conclusion or have not considered the issue. So, while LGBTQ employees in Pennsylvania now have a state remedy available to them when they face workplace discrimination, their rights in federal courts and many other states are much less certain.
For now, employers in Pennsylvania should review their policies and train management personnel to avoid discrimination based on sexual orientation, gender identity, and transgender status. Employers should also remember that discriminating against a protected class of employees based on client or customer preferences or requests is a violation of the PHRA and Title VII.
Both employers and employees should consult with an experienced employment law attorney when issues of sexual orientation or gender identity discrimination arise in the workplace. If you have any questions or wish to seek legal guidance in this area contact Scaringi Law at 717-657-7770.
Posted By
Scaringi Law
Categories: