DUI While Parked Sleeping It Off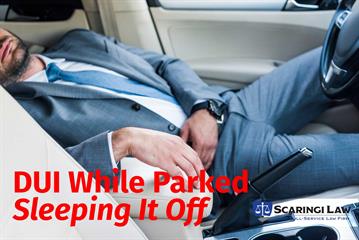 In Pennsylvania, pursuant to 75 Pa.C.S. § 3802, Driving under influence of alcohol or controlled substance, "[a]n individual may not drive, operate or be in actual physical control of the movement of a vehicle" with certain amounts of alcohol or controlled substances in one's system. Everyone knows that actually driving a vehicle while under the influence can lead to a DUI charge. What many people do not know is that the courts have defined "actual physical control of the movement of a vehicle" to include being inside a vehicle with the keys, even if that vehicle is not in motion. I have had several clients charged with DUI who were actually just "sleeping it off" in their car in the parking lot of a bar.
A police officer encountering someone sleeping in their vehicle while intoxicated may use their discretion to not charge the individual with DUI. They may feel that the person deserves credit for not having actually driven the vehicle. The police can, however, charge DUI in this situation. Factors the courts have looked to in determining what constitutes "actual physical control" of the vehicle include whether the vehicle is running, whether the keys are in the ignition, where the person is in the vehicle, and the condition of the vehicle. Pennsylvania courts have held that this is a "totality of the circumstances" test, so no one factor needs to be present for a DUI conviction. Being in the backseat, without the keys in the ignition is certainly safer than being in the driver's seat with the vehicle running, but the safest policy of all is to get a ride home and not give the police a chance to find you intoxicated in your automobile.
If you have been charged with DUI, contact Scaringi Law, 717 657 7770, one of their experienced criminal defense attorneys can advise you about your rights and obligations under the law.
Posted By
Scaringi Law
Categories: