Fixing Loose Nails Keeps The House Standing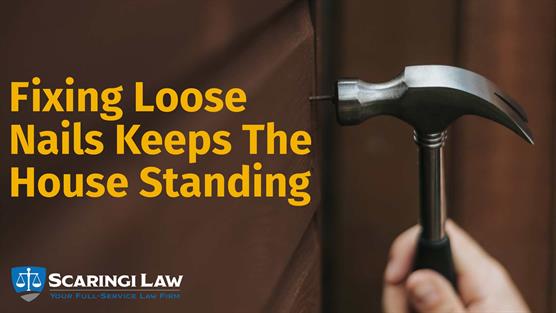 My college football coach often told us, "Take care of the little things, and the big things will take care of themselves." He was referring to things such as putting in the daily required time to maintain good grades, showing up on time for class and football practice, working out in the off-season to be ready for the season, and other such day-to-day actions that would lead to success in the classroom and on the field.
I think this sage advice can be applied to life in general as well. I often have clients who find themselves in a bind that could have been avoided by taking care of the little things. One example is clients with issues concerning their driving privileges. They may have received a traffic citation for something relatively minor but failed to respond to the citation or to pay the required fine. They end up having their license suspended by PennDOT but due to moving and failing to change their address, or simply failing to check their mail regularly, they never actually receive the notice of suspension. They are then pulled over for driving under suspension, the result of which is hundreds of dollars in fines and a year long suspension of driving privileges. It is easy to see how a small fine for a minor citation can turn into a major imposition.
Taking care of the little details now can avoid big trouble and the possible need for legal counsel later. If you do find yourself in a situation like the one I described above, though, contact Scaringi Law 717 657 7770. I was recently able to convince a local police officer, in a situation similar to the above, to greatly reduce a driving under suspension citation such that my client was able to avoid facing a license suspension.
Posted By
Scaringi Law
Categories: