Tips on Trademarks – 4 Common Mistakes Made in Trademark Applications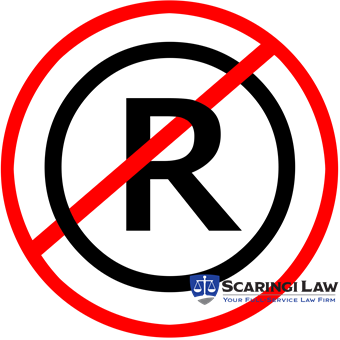 By Marc A. Scaringi, Esq.
Frequently people will consult with me after having tried to file their trademark application on their own only to have it rejected by the United States Patent and Trademark Office. Sometimes I am able to fix their registration with an amendment to their original application rather than having to restart the process from scratch with a new application. Sometimes not. It depends upon the reason for the rejection.
Some of the common mistakes people make when trying to register their trademark, and which result in a refusal by the Trademark Office, include:
1. Specimen Refusal. Sometimes applicants will simply send a copy or picture, without more, of the mark they intend to register. Such specimens will be refused. Applicants must submit specimens showing the applied-for mark in use in commerce for each international class of goods and/or services identified in the application.
2. Disclaimer Required. Applicants often fail to disclaim certain words that are not permitted to be registered. For example, if your business is an LLC (i.e. a Limited Liability Company) and your business name is part of the mark you intend to register, you must disclaim the words, "LLC." That's because "LLC" designates the legal character or business structure of an entity and does not indicate the source of the applicant's goods and/or services. Thus, it is an unregistrable component of the mark. You can still use the word "LLC" in your mark; you just don't get trademark protection in that word.
3. Inadequate Mark Description. Applicants often fail to provide a complete description of the mark. Your written description in the application must describe every literal and design element and color, if you wish to register the colors, of the mark. Here detail is the key.
4. Entity Clarification. This is a particular problem for individuals who are the sole owner of their business. If you are the sole owner of your business entity you often think you and your business are the same. That is only true if you are sole proprietorship. If you are the sole owner of your LLC or corporation, you and your business are not the same; you are two separate things – a person and legal business entity. If your business develops and uses a logo, your business owns the logo – you don't. (You own the business). So, when you apply to register your business logo, your business must be the applicant – not you.
These are just some of the common mistakes people make when they file their trademark applications. Often these types of mistakes can be fixed with an amendment to the application and would not require a start over from the beginning. Trademark law is complex and can be difficult to navigate on your own. You are advised to contact one of Scaringi Law's trademark attorneys at 717-657-7770 who are more than able to handle your trademark application from start to finish.

Posted By
Marc A. Scaringi, Esq.
Categories: