You Can't Be Charged with Conspiracy Alone.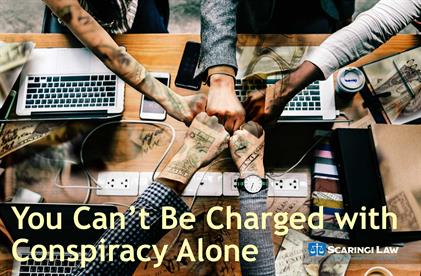 Any time I have represented clients charged with "conspiracy," they are confused as to what conspiracy actually is. One important thing to realize is that one cannot be charged with conspiracy alone. Instead, the authorities will charge someone with conspiracy to commit a particular crime. For example, one might be charged with "conspiracy to commit retail theft," or "conspiracy to commit burglary," etc. The conspiracy element of such a charge essentially means that authorities are alleging that the offense involved the agreement of two people to commit a crime, and some act in furtherance of that agreement. If two people agree to burglarize a home, and one of those people begins preparing for the burglary by, for example, buying dark clothing and a crowbar to effectuate the breaking and entry into a home, the two people are guilty of conspiracy to commit burglary. Another thing to be aware of, and which should cause particular caution for those engaged in a plan to commit a crime, is that, once a conspiracy is in place, all parties to the conspiracy are guilty for the crimes of their co-conspirators committed in furtherance of the conspiracy. So, to expand on the example above, if two people agree to burglarize a home and then one of them, during the burglary, assaults an inhabitant of the home, both people can be charged for and convicted with not only the burglary, but also the assault.
If police have alleged that you engaged in a criminal conspiracy to commit a crime, do not discuss the allegations with police or anyone at all except one of Scaringi Law's experienced criminal defense attorneys 717 657 7770.
Posted By
Scaringi Law
Categories: