Custody Cases Are Not Just a Quick Hearing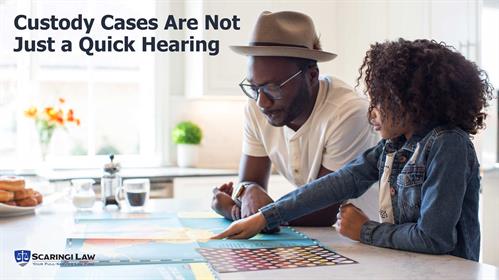 Custody cases are among the most heart-wrenching and emotional for not only the parties but the legal system as well. One source of this is the tension between how eager parents are to fight in court, and the fact that the courts are moving more and more towards a system that encourages agreements and mediation of custody issues.
I have found that custody clients often think upon filing for custody of their children they will have a protracted and contentious hearing before a Judge within a day or a few weeks. Outside of actual emergency situations, this is not the case. Counties differ in some specifics but filing a Complaint in Custody causes some type of initial conference to be scheduled within a few weeks. In the county where I most frequently practice, the initial court appearance is a conference in which both parties must appear and report to the county's custody conciliator as to whether they have an agreement on what the custody order should be, or are still at odds, and need further court intervention. The conciliator will attempt to negotiate and stress to the parties the value of reaching an agreement. If there is still no agreement after this conference, the case moves on to a custody conciliation, which may not take place for several weeks. This is a more drawn out proceeding at which the conciliator will again work to get the parties to a settlement. In the majority of cases, some type of agreement is reached at this stage of the case, even if it is only a temporary agreement.
If, even after conciliation, the parties absolutely cannot agree, the case only then goes to a Judge for a full hearing. The scheduling of hearings can vary in time but oftentimes takes several months.
If you are involved in a custody proceeding, try to appreciate the court's policy of stressing the importance of agreements, but contact Scaringi Law's experienced family law attorneys to advise you of your rights and be there when it is truly time to fight the case before a judge.
Posted By
Scaringi Law
Categories: