What Is a Prohibited Offensive Weapon?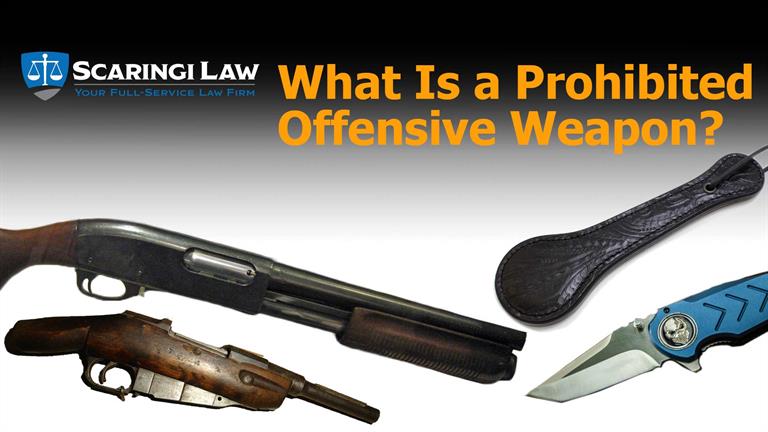 By F. Clay Merris, Esq.
I have represented many people charged with "Prohibited Offensive Weapons," and found that, oftentimes, the charged individual is actually surprised to be charged with a crime. I think the surprise is based on ignorance of what constitutes an "offensive weapon" under the law.
Pursuant to 18 Pa.C.S. 908, a "prohibited offensive weapon" is defined as:
Any bomb, grenade, machine gun, sawed-off shotgun with a barrel less than 18 inches, firearm specially made or specially adapted for concealment or silent discharge, any blackjack (small club), sandbag, metal knuckles, dagger, knife, razor or cutting instrument, the blade of which is exposed in an automatic way by switch, push-button, spring mechanism, or otherwise, any stun gun, stun baton, taser or other electronic or electric weapon or other implement for the infliction of serious bodily injury which serves no common lawful purpose.
It is a more comprehensive list than I think most people realize. My past clients have been especially surprised that switchblade knives are included as offensive weapons. I have even represented an individual charged with this offense for possession of a spring-assisted knife he bought from a local retailer. There are certain defenses, but they only apply in very limited situations. If the defendant can "prove by a preponderance of evidence that he possessed or dealt with the weapon solely as a curio or in a dramatic performance, or that, with the exception of a bomb, grenade or incendiary device, he complied with the National Firearms Act (26 U.S.C. § 5801 et seq.), or that he possessed it briefly in consequence of having found it or taken it from an aggressor, or under circumstances similarly negating any intent or likelihood that the weapon would be used unlawfully."
If you find yourself facing a criminal allegation of possession an offensive weapon, do not discuss your case with anyone at all until you have contacted Scaringi Law's seasoned criminal defense attorneys at 717 657 7770.

Posted By
F. Clay Merris, Esq.
Categories: