A Ray of Hope for Bullied School Children?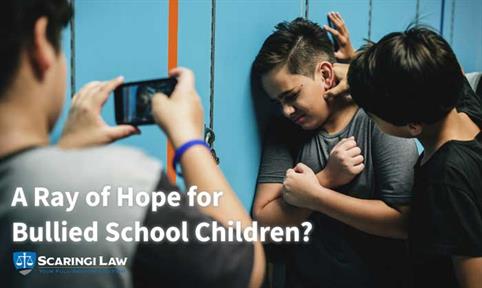 Brian C. Caffrey, Esq.
On August 23, 2018 a wise and courageous judge in Philadelphia named Gene D. Cohen struck a blow for bullied school children across Pennsylvania when he entered judgment against the Philadelphia School District and in favor of former student Amanda Wible in the amount of $1,078,000.00, which consisted of a damage award of $500,000.00 and an award of $578,000.00 in attorneys' fees and expert witness fees. However, it was not the Pa. Public School Code on which Judge Cohen relied, but the Pa. Human Relations Act. Much of Judge Cohen's 34-page December 17, 2018 opinion in support of his decision (filed in response to the school district's appeal) is devoted to cataloging and describing the unremitting violence and abuse perpetrated against Ms. Wible.
The following are the facts found by Judge Cohen. Dr. Michael Bradley, a licensed clinical psychologist, whom the court qualified as an expert in child and adolescent psychology with a specialization in treating trauma arising from bullying and harassment, testified that Ms. Wible suffered from complex type post-traumatic stress disorder (PTSD) and compared her educational experience to a "war zone." At four different schools in the district, Ms. Wible was subjected to persistent taunting, teasing, bullying, harassment, ostracization and beatings because of her gender presentation. In short, Ms. Wible was something of a "tomboy," because of this other students called her names such as "it," "shemale," "bitch," "freak," "weirdo," "slut," "whore," and others I won't mention. Students stole, damaged or destroyed her property, including school books and homework. Students punched, shoved, slapped, stepped on and tripped Ms. Wible, elbowed her in the head, spat on her, stabbed her with a pencil, threw things at her, dumped water and milk on her, shoved food in her hair, and ripped out chunks of her hair. Some of these incidents occurred at one school from 3-4 days a week to daily, and sometimes multiple times a day. In typically perverse fashion, Ms. Wible was herself suspended once for fighting back.
Again, in all-too-common fashion, the teachers and principal, though fully aware of the abuse, did virtually nothing, either to protect Ms. Wible or to punish the perpetrators of the abuse, instead telling her to "ignore" her attackers and tormentors. The principal sometimes accused Ms. Wible of lying. The same principal, Sonia Perez, later threatened to expel Ms. Wible if she were to be involved in another "incident," i.e., if she were attacked again. After having been beaten in the head by a group of girls, Ms. Wible saw Perez hugging one of the assailants and patting another on the shoulder. In Orwellian fashion, this same school tried to resolve Ms. Wible's problems by putting her through "peer mediation," in which one of the "peer mediators" was one of Ms. Wible's principal tormentors. Of course, having been thus empowered by the school administration, the peer mediator insulted Ms. Wible and called her "stupid bitch" while a counselor left the two alone in a room.
As with someone who has lived through trauma during combat, Ms. Wible suffered profound psychological and physiological harm from the violence and abuse perpetrated by other students, including PTSD, panic attacks, depression, anxiety, profound sleep disturbance, stomach aches, headaches, suicidal thoughts, at least one concussion, and a condition which causes the brain to amplify minor pain signals. Her grades suffered, she was isolated, even from friends, and ostracized.
Judge Cohen found that, as the result of the "deliberate indifference" of the school district to the abuse of Ms. Wible, Ms. Wible was denied equal access to the accommodations, advantages, facilities, or privileges of the district's schools on the basis of her sex, in violation of the Pennsylvania Human Relations Act (PHRA).
I've heard many accounts of students being bullied in public and even private schools, and the PHRA, which addresses discrimination based on race, color, familial status, religious creed, ancestry, handicap or disability, age, sex, national origin, the use of a guide or support animal because of the blindness, deafness or physical handicap of the user or because the user is a handler or trainer of support or guide animals, is not available to most of these students. "Anti-bullying" rules are typically "bully full employment acts." While schools are required to report serious criminal offenses to the police, not every act of abuse will rise to that level. And if the police show up and threaten the victim, what good is such a statute? The fact is that there are few legal protections for kids who, for whatever reason, don't conform or fit in with whatever are the prevailing customs of the students who rule the school. I recommend that parents of abused students form support groups, even legal foundations, and take their concerns to state legislators. Schools that won't even protect vulnerable students from brutal physical attacks should not be given charge of even a single child.
If your child's school is neglecting your child or exposing him or her to danger, call our office to ask about a free consultation, 717 657 7770.

Posted By
Brian C. Caffrey, Esq.
Categories: