Criminal Defense "de Minimis"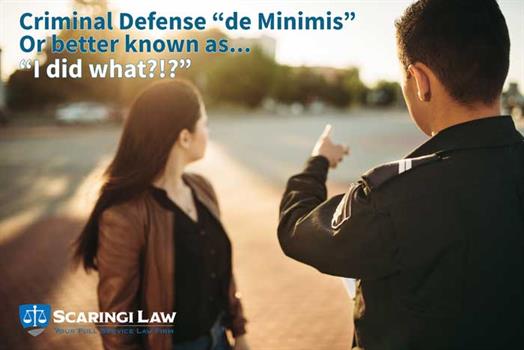 Another little-known defense to the prosecution of an alleged criminal act is to assert that the act in question was "de minimis" (Latin for "about minimal things"). As is apparent from the words themselves, this defense involves an argument that, while some criminal conduct may technically have taken place, it was so minor in nature and inconsequential that it is not prudent or just for a conviction to be sought. Pursuant to the Pennsylvania Rules of Criminal Procedure, the "court shall dismiss a prosecution if, having regard to the nature of the conduct charged to constitute an offense and the nature of the attendant circumstances, it finds that the conduct of the defendant:
was within a customary license or tolerance, neither expressly negatived by the person whose interest was infringed nor inconsistent with the purpose of the law defining the offense;
did not actually cause or threaten the harm or evil sought to be prevented by the law defining the offense or did so only to an extent too trivial to warrant the condemnation of conviction; or
presents such other extenuations that it cannot reasonably be regarded as envisaged by the General Assembly or other authority in forbidding the offense."
In addition to a judge, the district attorney's office also has the ability to terminate a prosecution on these grounds.
If the Commonwealth is prosecuting you for a minor act, contact Scaringi Law 717 657 7770. Their experienced criminal defense attorneys will discuss your rights.
Posted By
Scaringi Law
Categories: