In DUI Testing, There Is a Ticking Clock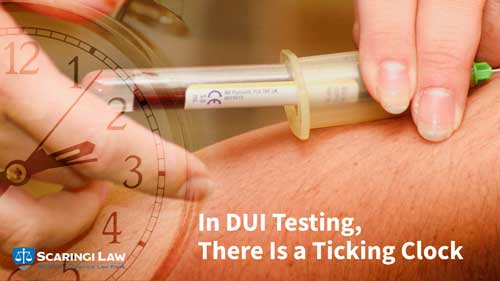 In a Pennsylvania DUI investigation, blood must be drawn within two hours of last driving. To be found guilty of DUI, the defendant's blood alcohol content must be over .08 within two hours of driving on a roadway. There is, however, an exception to this rule. The Commonwealth can still use the blood test results under the following circumstances:
where the Commonwealth shows good cause explaining why the chemical test sample could not be obtained within two hours; and
where the Commonwealth establishes that the individual did not imbibe any alcohol or utilize a controlled substance between the time the individual was arrested and the time the sample was obtained.
The two-hour rule is a per se rule – unless the Commonwealth can meet the exception of having good cause and being able to prove the charged individual did not drink in the meantime, the blood test results will be inadmissible if not obtained within two hours.
So, if police believe you drove home from a local tavern intoxicated but, upon coming to your house more than two hours after you got home, find you drinking alcohol, they will not be able to take a blood sample that will be admissible in court.
If, on the other hand, police happen upon a car accident in the middle of nowhere, and the driver has clearly not imbibed any alcohol since having crashed their vehicle, police can argue they had good cause to take longer than two hours because of the location of the crash, and will be able to obtain an admissible blood sample since they can also prove the driver did not drink any alcohol since driving.
If you are facing a DUI prosecution, contact Scaringi Law's experienced criminal defense attorneys.
Posted By
Scaringi Law
Categories: