Abuse Victims Are Creditors in Roman Catholic Diocese of Harrisburg Bankruptcy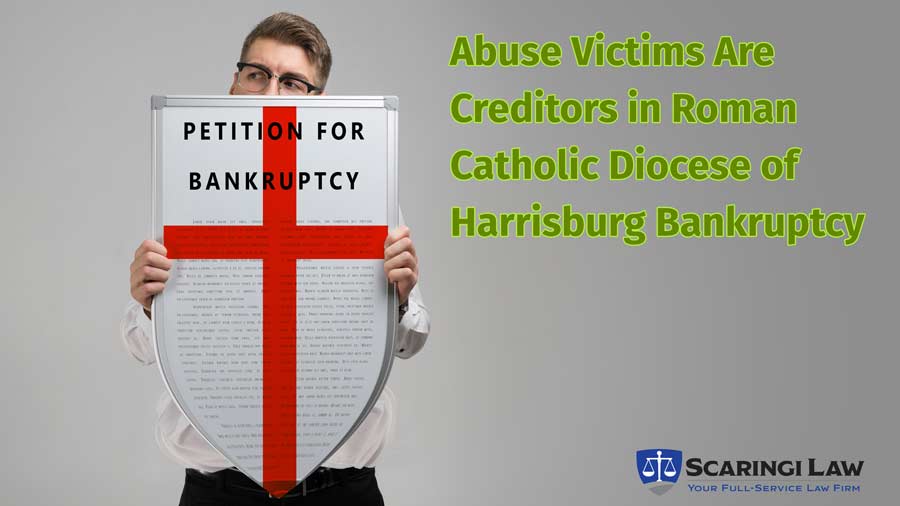 The Roman Catholic Diocese of Harrisburg filed for bankruptcy under Chapter 11 of the United States Bankruptcy Code on Wednesday, February 20, 2020, to the great alarm of the community and particularly victims of sexual abuse. I was asked to appear on CBS 21 news to offer some guidance to the viewers who want to know what this means, particularly to those members of the community who could be affected by the bankruptcy.
The first thing to know is that there is an automatic stay that goes into effect with bankruptcy, so no new lawsuits can be filed against the Roman Catholic Diocese of Harrisburg at this time, and any pending lawsuits must come to a halt due to the bankruptcy filing. That does not mean victims should do nothing, though. Quite the contrary!
Victims of abuse who could have claims against the Roman Catholic Diocese of Harrisburg are now creditors in a bankruptcy. Creditors who hope to be paid in a bankruptcy must file a Proof of Claim, which is a legal filing asserting their right to receive payment. If a creditor has a claim that arose before the bankruptcy was filed, knows about the bankruptcy, but fails to come forward in time to file a claim, that creditor is forever barred from asserting their claim. That is especially important in a case like this, where there are likely victims of childhood sexual abuse who have not yet come forward. Many victims are likely still struggling to process and come to terms with the traumatic events in their past. The challenge they face to come forward is daunting, highly emotional, and personally difficult. Now is the time to do that, though. This bankruptcy filing puts a mandate on those victims. They are now creditors in a bankruptcy. If they don't come forward to assert their claim now, they may never be able to do so.
There are certain types of debts that are not discharged in a bankruptcy. For example, most tax debts and domestic support obligations are not discharged. Criminal fines or penalties and an order of restitution issued under federal criminal law are not dischargeable in bankruptcy, but the claims for civil damages individual victims may have are a lot less certain. There is potential to have those claims determined to be non-dischargeable if the bankruptcy court determines the claim arose out of a willful and malicious injury by the debtor (the Roman Catholic Diocese of Harrisburg) to another. That is not automatic, though. The victim first must file a proof of claim, and then must proceed with further filings to request a determination that the claim is non-dischargeable. If the victim fails to come forward in the bankruptcy, their claim will be discharged, even if it was resulting from a willful and malicious injury.
If you have a claim against the Roman Catholic Diocese of Harrisburg, or any other bankruptcy debtor, you should talk to a bankruptcy attorney right away. Call Scaringi Law at 717-657-7770 to ask about a free consultation. We could help you protect your claim as a creditor in a bankruptcy.

Posted By
Kelly M. Walsh, Esq.
Categories: