Scaringi Law Election Law Announcement: Now is the Time for Candidate Petition Challenges!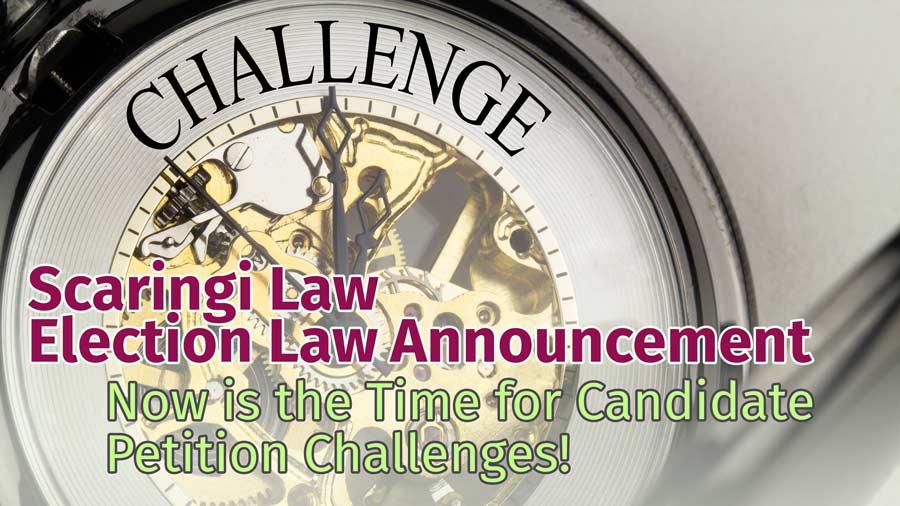 By Brian C. Caffrey, Esq.
If you're considering filing a challenge to a political candidate's nominating petitions, it's time to get ready. The whirlwind time frame for adjudicating petition challenges demands fast action.
Nominating petitions have been circulating since January 28, 2020. The last day to circulate and file nomination petitions is February 18, 2020. Petitions to challenge nomination petitions must be filed within seven days after the last day for filing nominating petitions. That means that Tuesday, February 25, 2020 is the deadline to file a petition to challenge a candidate's nominating petitions. The Election Code requires that the office of the Prothonotary of the Commonwealth Court and the office of the Secretary of the Commonwealth and the various offices of prothonotary of the court of common pleas shall be open between the hours of 8:30 A.M. and 5:00 P.M. on the last day to file objections to nomination petitions.
In order to determine whether there's anything to challenge, you'll first have to obtain copies of the candidate's nomination petitions from the state's or your county's elections and voter registration office, depending upon the office in which the candidate whose petitions you intend to challenge has filed. Then you'll have to review the candidate's petitions for defects.
The persons who sign a nomination petition must be registered voters of the precinct or the district which the candidate seeks to represent, and of the party whose nomination the candidate seeks. A signer (elector) may only sign a petition once (although he or she may sign as many petitions as there are positions to be filled). Forged signatures are invalid, as are printed "signatures" and signatures that do not correspond to those found on voter registration cards or in the SURE (State Uniform Registry of Electors) system. Addresses must correspond to those shown on the voter registration card or in the SURE system. Note that the Department of State no longer requires nomination petition pages to be signed by a Notary Public.
A petition challenge is made in the appropriate court – either the Pennsylvania Commonwealth Court or the Court of Common Pleas. These cases are heard on an expedited basis. Scaringi Law attorneys have experience handling petition challenges in court and have obtained successful results for several clients. If you are contemplating a challenge to a candidate's nomination petitions, or if your own petitions have been challenged, call our office to ask about a free consultation.

Posted By
Brian C. Caffrey, Esq.
Categories: