Rules of the Road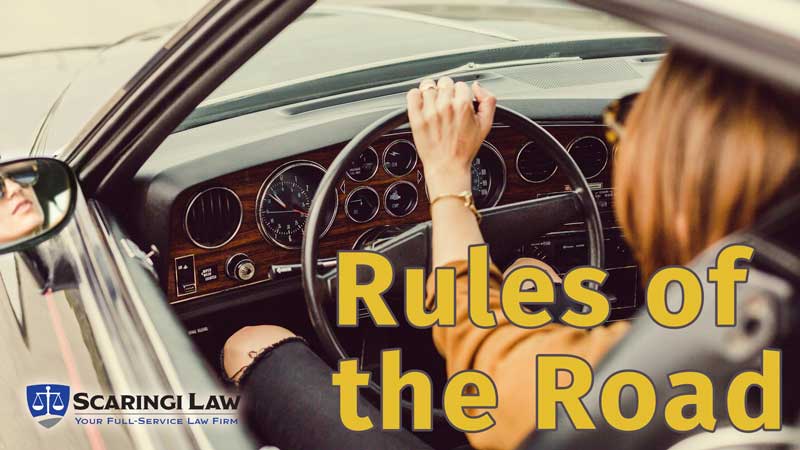 By Joseph R. D'Annunzio
In a two-vehicle accident on the highway, often a driver will blame the other driver's conduct as the cause of the accident. In Pennsylvania the legislature has passed laws that regulate the conduct of drivers. These laws are known as the Rules of the Road.
For example, Vehicle 1 is driving on the highway and is traveling 5 mph over the speed limit hauling a trailer, but left himself a safety cushion to break in. Vehicle 2 wants to enter the highway making a left turn from a private driveway. After waiting for several minutes for a break in traffic, Vehicle 2 decides to risk a small hole in traffic and assumes traffic can slow-down to allow him to enter. Vehicle 1 cannot stop in time and strikes Vehicle 2.
In this example, although Vehicle 1 struck Vehicle 2, Vehicle 2 may be responsible. Section 3324 of the PA Motor Vehicle Code states, "The driver of a vehicle about to enter or cross a roadway from any place other than another roadway shall yield the right of way to all vehicles approaching on the roadway to be entered or crossed."
In another example, Vehicles 1 and 2 are driving on the same highway but are driving in opposite directions. Vehicle 1 attempts to make a left turn on to another highway. Vehicle 2 is unable to stop in time and it strikes Vehicle 1.
In this example Vehicle 2 has the right of way, and Vehicle 1 may be responsible. Section 3322 states, "The driver of a vehicle intending to turn left within an intersection…shall yield the right of way to any vehicle approaching from the opposite direction which is so close as to constitute a hazard."
Our final example is more complicated. A vehicle breaks down on the highway and pulls on to the shoulder. The highway is a no passing zone. A tow truck responds. The service driver activates the flashing yellow light on the tow truck. Vehicle 1 is approaching the scene from the rear. The driver thinks that he can "get around" the situation, so he moves into the opposite lane of travel and accelerates. Vehicle 2 is traveling in the opposite direction. He sees the tow truck and that Vehicle 1 is entering his lane. Vehicle 2 decides to accelerate in order to avoid the situation. Vehicles 1 and 2 collide, and they then strike the stopped vehicle, the tow truck, and they injure the tow truck driver.
Section 3327 states, "When approaching or passing an emergency response area, a person, unless otherwise directed by an emergency service responder, shall: 1- pass in a lane not adjacent to that of the emergency response area, if possible; or 2- if passing in a nonadjacent lane is impossible, illegal or unsafe, pass the emergency response area at a careful and prudent reduced speed reasonable for safely passing the emergency response area."
Both Vehicles 1 and 2 share responsibility. Vehicle 1 does not have a nonadjacent lane to travel. It is illegal for him to pass into the opposite lane. It is a no passing zone. He is traveling at an unsafe rate of speed. Vehicle 2 is approaching the emergency response area, and he also has a duty to pass in a careful and prudent reduced speed.
The Rules of the Road regulate the actions of vehicles to keep everyone safe and they are helpful in determining responsibility for an accident. However, every accident is determined by the facts, and a lawyer should evaluate all of the facts before giving legal advice.
At Scaringi Law, our attorneys handle motor vehicle accident cases, as well as any traffic violation or criminal case resulting from the accident. If we may be of help, please call our office 877 LAW-2555 to ask about a free consultation.

Posted By
Joseph R D'Annunzio
Categories: