State Police Continue with Seizure Of "Skill-Based" Video Terminal Games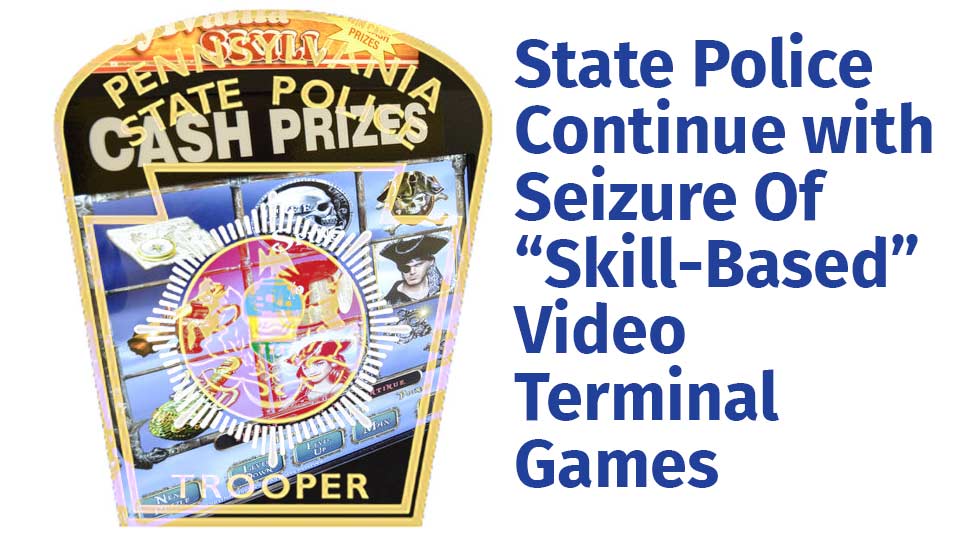 Last month Commonwealth Court Judge Ellen Ceisler lifted a temporary ban issued against Pennsylvania State Police's efforts at seizing "skill-based" video terminal games. That court decision meant that law enforcement could resume seizing these machines.
As a result, according to PennLive/The Harrisburg Patriot News, state police and liquor control enforcement officers confiscated a total of 71 gambling machines, including 65 video gambling devices, from 17 licensed liquor establishments between Jan. 22 and Feb. 25. Those seizures include gambling devices marketed as "skill machines." Along with the machines, more than $115,000 was seized.
"Illegal, unregulated gambling is a serious – and growing – problem facing the commonwealth, with video gambling devices spreading beyond licensed liquor establishments into convenience stores, malls, and restaurants," said Captain Jeffrey Rineer, acting director of the Pennsylvania State Police Bureau of Liquor Control Enforcement, in the release. "So far in 2020, gambling machine seizures have been reported from every BLCE office, in counties from Erie to Philadelphia."
These games are frequently found in local taverns, restaurants, and social clubs.  Most if not all of these enterprises hold liquor licenses issued by Pennsylvania Liquor Control Board.  Many of these establishments rely on the revenues collected from these games to continue operations.  Without these funds many of the venues will be forced to pass on to consumers the loss of these revenues by way of higher prices.
Judge Ceisler did not rule on the question if the operation of these games is legal or illegal.  That underlying question is still before the Commonwealth Court to be decided at a later date.
Should the court ultimately decide that these games are illegal, then the operators of these establishments could face criminal charges under the Crimes Code as well as citation actions under the Liquor Code.   Gambling citations are considered major infractions by the Office of Administrative Law Judge as well as Pennsylvania Liquor Control Board's Bureau of Licensing.  The maximum fine for an adjudicated gambling citation under the Liquor Code is $5,000.00 per count.  Also, the Bureau of Licensing can use an adjudication of a gambling citation as a reason to not renew a liquor license at arenewal time.
If you hold a liquor license and either have these video terminal games in your establishment or are considering placing these games in your establishment, you should seek guidance from one of Scaringi Law's gaming and liquor attorneys at 717 657 7770.

Posted By
Frank C. Sluzis, Esq.
Categories: