8 Dos And Don'ts After Receiving a Divorce Complaint
By Scaringi Law Attorney Nichole A. Collins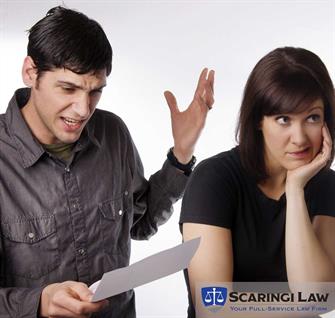 Getting served with a divorce complaint can be overwhelming and stressful, especially if you have no idea what to do next. Regardless whether you wish to reconcile your marriage, or whether you have accepted the fact that divorce is the right path for you, here are some quick tips to help you through the process:
DO consider Individual Counseling: Individual counseling can benefit you in multiple ways. If you want someone to listen to you, and to help you better yourself, and ultimately your relationship with your soon-to-be-ex and/or your children, you should consider individual counseling. Even if your goal is reconciliation, start with individual counseling.
DO consult with a Family Law Attorney: There are a lot of myths on the internet. In addition to the internet, I bet you know many people who have gone through a divorce, or custody related litigation. Each of these people will probably tell you something different. This can be extremely frustrating and can leave you more confused than you were before you started researching the process. This is why it is imperative that you consult with a local, experienced, family law attorney to help you understand how things work in your jurisdiction, and given the facts of your particular case.
DO make a list of Joint Accounts and Bills in Joint names: In addition to making the list, you will need to contact each individual bank, creditor, utility company, etc. to find out what needs to be done to close the account, transfer the account, or remove the name of your soon-to-be-ex from the account. Do consult with an attorney after you make the list, and before you take action to close any accounts.
DO gather all of your Personal Property, Documents and items of importance: This is especially important if you plan to move out of the marital residence. If you intend to move out, as a rule of thumb it is best to take everything with you when you leave. For purposes of this paragraph, "everything" means all of your clothing, jewelry, personal property, important documents, gifts to you, inherited items, or other things with an emotional value. With regard to marital property, do not take more than one-half when you leave.
DO NOT relocate to a Different School District if you have Minor Children: This is especially important if you are the person moving out of the marital residence. If you are looking for shared physical custody, or primary physical custody, do not move to a location that will require your children to change schools, and immediately consult with an attorney BEFORE you move.
DO NOT freak out and start making irrational moves prior to consulting with an Attorney: If you panic and start opening and closing bank accounts, moving money around, hiding and destroying things, you could unintentionally be racking up your legal bills by creating an abundance of extra work for your attorney. If you think that re-allocating your savings into forty-seven different bank accounts will somehow prevent your ex from getting their hands on half of those funds, think again.
DO NOT get so focused on litigating the Divorce and Custody that you lose touch with your family, friends, and employment-related responsibilities: Let your attorney guide you through the process of knowing what is legally important, vs. what is not legally relevant. If you are paying an attorney, listen to that person, and talk to your individual counselor about the important issues that may not be legally relevant to your case. Also, preserve your own sanity by trying to maintain some sort of normalcy, including but not limited to keeping in touch with the individuals close to you, and maintaining your employment. Let your attorney focus on the law, and help them help you by gathering the information and documentation they request.
DO NOT destroy, sell, dissipate, transfer, or otherwise dispose of Marital Assets without first speaking to an experienced Attorney: You should expect to give your soon-to-be-ex one-half of the value of your marital estate. This does not mean that you can't trade in your Mercedes SLK convertible for something that drives better in the snow. This does mean that if you pursue the trade-in, you might require cooperation from your ex in signing over a joint title. It also means that you should retain documentation of the trade-in value of the vehicle, the date of the trade in, and other information that will be useful in resolving your divorce via marital settlement agreement, or via litigating before the divorce master.
Do consult with an experienced attorney today to help inform you of your options and advise you of your rights. Do not go through the process alone. If you have any questions about divorce or custody, please give me a call at 717-657-7770!

Posted By
Nichole A. Collins
Categories: