IEP - A Safeguard For Your Child's Education
By Brian C. Caffrey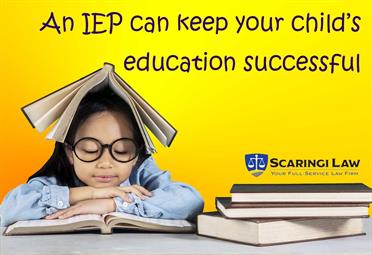 Thanks to the federal Individuals with Disabilities Education Act (IDEA), school children with disabilities and their parents have considerable substantive and procedural rights. These rights, however, are not self-executing, and you can't necessarily count on your local school district to properly and adequately address your child's special needs on its own initiative. All school children with disabilities are entitled by law to free and "appropriate" public education.
Upon request of a parent whose child has a statutorily defined disability, the school district must conduct an individualized education program (IEP) evaluation and prepare a proposed IEP for the affected child. Such disabilities include mental retardation; hearing, speech, language, visual or orthopedic impairments; autism, traumatic brain injury, an "other health impairment, a specific learning disability; and multiple disabilities. In order to qualify for an IEP, the student must need special education and related services by reason of such a disability.
If you, as a parent, determine your child is struggling at school because of a disability covered by IDEA, you must take the initiative and request the special educational coordinator in your school district to conduct an IEP evaluation concerning your child. This will usually go a long way toward getting your child on the road to improvement in school. Don't let the problem fester.
Contact Our Harrisburg Education Lawyers Today
Unfortunately, some school districts balk at requests for IEP evaluations. For these situations, an experienced Harrisburg education law attorney can guide you in claiming and exercising your rights under the law--such as ours at Scaringi Law. If you have any questions or concerns about your child's rights in public school, look no further than our trusted, tenacious, and determined legal team.
Schedule an initial consultation with one of our experienced and skilled Harrisburg education law attorneys by calling (717) 775-7195.

Posted By
Brian C. Caffrey, Esq.
Categories: