Seven Considerations in Selecting an Attorney that is Right for You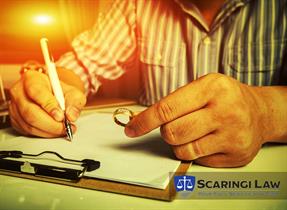 By Scaringi Law Attorney Nichole A. Collins
As an experienced and dedicated practitioner of family law and criminal defense for over 8 years, I can assure you that nobody schedules a consultation with me when things are going well. The process of searching for an attorney can be overwhelming, especially for those of you looking for the first time. If you Google "Harrisburg, PA divorce attorney" there are a total of 55,300 results in 1.14 seconds. While it is nice to have options, the ordinary person in the midst of a crisis does not have the time or the patience to carefully consider 55,300 results. So, how do you narrow down your search?
I suggest considering the following:
Gender: If you are not comfortable discussing the details of your particular legal troubles with a member of the opposite sex, you should narrow your search accordingly. On the other hand, maybe you believe an attorney of the opposite sex would be best suited to cross examine your ex. It is okay to narrow down your attorney search by gender. Our team at Scaringi Law offers both male and female Harrisburg attorneys, to suit your preferences and needs.
Communication: It is important that you and your attorney understand each other, as it will only benefit you in the long run.
Accessibility: If you work 9 to 5 job Monday through Friday, and your attorney's schedule does not work with this arrangement, this can become problematic in scheduling meetings or telephone conferences--especially if your job does not permit many vacation or personal days.
Location: Many attorneys bill by the hour, and travel time is included as billable work. Ideally, you will want an attorney with an office located near your home, your work, or the Courthouse. Luckily for you, Scaringi Law has 7 office locations, conveniently located throughout central Pennsylvania.
Background: If you have been court ordered to undergo a custody evaluation prior to trial, it is important that your attorney has the educational background, training, and/or experience to guide you through the process, and to challenge the forensic expert, if necessary, at trial. If you are headed to a custody trial, and faced with an unflattering evaluation, your attorney needs to know what the MMPI-II is.
Mutual Respect: If communicating with your attorney repeatedly causes your blood pressure to skyrocket, perhaps you should consider a change in counsel. If you e-mail a question to your attorney, you should receive a sufficient response, instead of feeling your attorney believes you are wasting their time. Your attorney might be the only person on your side during difficult times, which is why it is important you genuinely respect their point of view.
Firm Size: If your attorney is unavailable when you call their office, are there support staff or other attorneys available to assist you? If you are represented by a solo practitioner, or small firm, and no one is available to deal with your emergency when it arises, you could be forced to deal with the emergency without the advice of counsel. If you have just been arrested, and your attorney is unavailable, are there other seasoned attorneys within the firm to help you?
Contact a Local Scaringi Law Attorney Today
Regardless of your preference, Scaringi Law has a variety of attorneys, female or male, available to suit the needs of your particular case. We are proud to offer solutions to even the worst of your situations. If you are seeking an attorney in Harrisburg, York, Carlisle, Lancaster, Newport, Hanover, or Gettysburg we are prepared to offer you the legal counsel, care, and representation you deserve.
Regardless of the details of your family law or criminal matter, please call 717-657-7770 and schedule a consultation at your earliest convenience.

Posted By
Scaringi Law Attorney Nichole A. Collins
Categories: