Ninth Circuit Court Strikes a Blow In Favor of the 2nd Amendment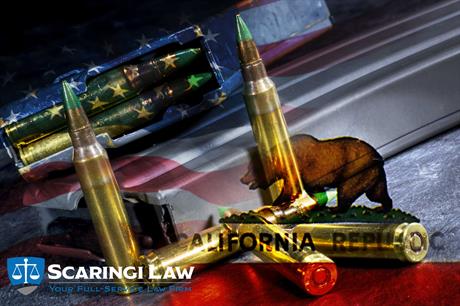 By: Marc A. Scaringi, Esq.
On July 17, 2018, the United States Court of Appeals for the Ninth Circuit, historically one of the country's most liberal circuit courts, struck a significant blow for our 2nd Amendment right to keep and bear arms. The circuit court, in Duncan v. Becerra, 2018 U.S. App. LEXIS 19690, affirmed the lower court's decision to grant a preliminary injunction stopping California from enforcing its new statute criminalizing Californians who possess a magazine that has the capacity to hold more than 10 rounds of ammunition. The 9th Circuit noted the Second Amendment protects ownership of weapons that have a "reasonable relationship to the preservation or efficiency of a well-regulated militia" and "the ammunition for a weapon is similar to the magazine for a weapon." This is critically important decision because it knocks down the argument made by gun-control advocates – that the 2A does not protect military-style weapons such as AR-15s. It also turns the liberals' argument, that the 2A only pertains to state militia and that state militias are obsolete, on its head; the court explains, "Finally, there are no exceptions made for citizens who, should the need ever arise, may be called upon to form a militia for the protection of the state from either foreign or domestic enemies." In other words, a Californian, who gets called upon to form the militia, will need his "large capacity" magazine as well as his firearm. And one of the best parts of the decision is where the court explains the militia could be called up to protect the people against enemies foreign and domestic.
The specific holding was this: the 9th circuit affirmed the United States District Court for the Southern District of California, which held the Plaintiff/2A advocate is likely to prove that: (1) a law-abiding responsible citizen has a right to defend his home from criminals using whatever common magazine size he judges best suits the situation; and (2) a law-abiding responsible citizen has a right to keep and bear a common magazine that is useful for service in a militia. See Duncan v. Becerra, 265 F. Supp. 3d 1106, 2017 U.S. Dist. LEXIS 101549 (S.D. Cal., June 29, 2017).
The judge ordered California Attorney General Xavier Becerra and all California law enforcement to cease and desist from implementing or enforcing California Penal Code sections 32310 (c) & (d), as enacted by Proposition 63, or from otherwise requiring persons to dispossess themselves of magazines able to hold more than 10 rounds lawfully acquired and possessed.
If you have any questions concerning firearms law, or how to protect, defend or restore your firearms rights, do not hesitate to contact Scaringi Law at 717-657-7770 and talk to one of our expert firearms law attorneys.

Posted By
Marc A. Scaringi, Esq.
Categories: