PA Liquor Control Board Decision Clears Way for Club Licensees to Enjoy Unrestricted Use of the Proceeds from Small Games of Chance by their Affiliated Veterans' Organizations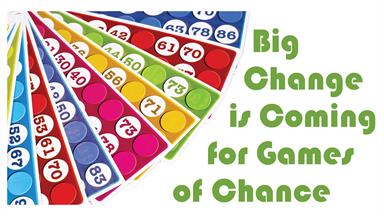 By Frank C. Sluzis, Esq.
In a case of first impression, a Pennsylvania Liquor Control Board Administrative Law Judge (ALJ) issued a decision holding a club liquor licensee may provide funds, derived from its Small Game of Chance (SGOC) license, to a veteran's organization for its unrestricted use. The Pennsylvania State Police, Bureau of Liquor Control Enforcement (BLCE) has historically taken the position that the funds given to the veteran's organization must be used by the veteran's organization strictly on public interest purposes, e.g., charities or civic causes. The ALJ has now ruled against the BLCE and its long-held position.
By way of background, section 502(a) of the Local Option Small Games of Chance Act provides that a holder of a small games of chance license must distribute the funds derived therefrom as follows: 60% on public interest purposes and 40% retained by the licensee. Section 505(a) permits a club license to provide funds to a veteran's organization that conducts activities that include public interest activities.
In the instant case the club licensee and holder of the SGOC license is a home association affiliated with an American Legion Post. The club licensee pursuant to its SGOC license distributed the proceeds from the 60% portion to its parent organization, the American Legion Post. The American Legion Post, in turn, used the proceeds to pay off the mortgage held on the building which housed the club and to fund various capital improvements to the club's building. BCLE issued a citation to the home association alleging that it was in violation of section 502(a) because the parent veteran's organization did not use the funds given to it directly on public interest activities.
The ALJ ruled that funds derived from a club liquor licensee's SGOC license can be distributed to a veteran's organization without any restrictions on how those funds are used.
Most veteran's organizations have set up home associations that hold the clubs' liquor licenses. The importance of this decision is that now parent veteran's organizations can use desperately needed funds derived from its home associations' SGOC licenses without peril to its home associations' liquor licenses.
To date BCLE has not taken an appeal to the ALJ decision. Should no appeal be filed, then this decision would hold precedence in PLCB ALJ matters statewide.
Club licensees who are interested in the outcome of this decision are cautioned not to act on the information contained herein. All cases are distinguishable by the facts associated with that particular case. You should not act regarding this matter without first seeking legal advice from an attorney experienced with issues involving liquor and small games of chance. If you have any questions or concerns concerning club liquor licenses and small games of chance, please contact me at 717-657-7770.

Posted By
Frank C. Sluzis, Esq.
Categories: