Pros and Cons of Choosing Chapter 13 Bankruptcy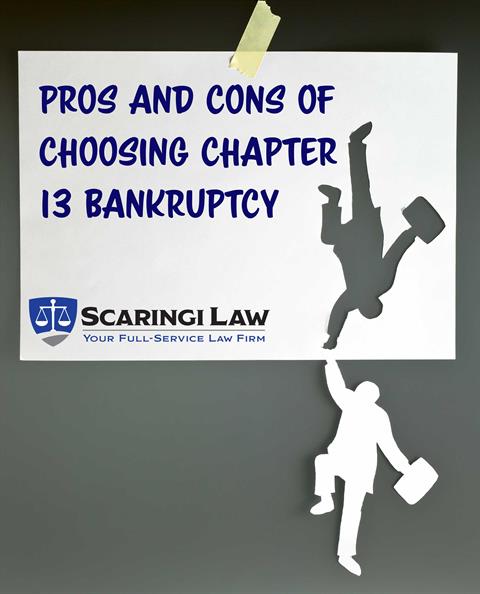 Typically, choosing to file for bankruptcy is a debtor's last resort. It's an incredibly difficult decision to make, and the struggle to decide between bankruptcy options doesn't make filing any easier. It's important to remember that bankruptcy isn't a punishment; in fact, it can be the start of a financially stable future.
Chapter 13 Bankruptcy
Between the various bankruptcy options, Chapter 13 may have the most restrictions and drawbacks, but it also provides the greatest benefits. Chapter 7 bankruptcy does not have any mechanism to help bring current the debts that cause the most anxiety—including arrears on mortgages and car loans, tax debt, and back child support payments. For debtors with income, Chapter 13 offers the chance to pay all or part of their debts within a 3-5 year period. The automatic stay in bankruptcy, which requires creditors to stop all collections actions, provides a unique opportunity to stop a mortgage foreclosure, even if the case is filed the day before the sheriff's sale is scheduled to take place. This allows a debtor to keep their house out of foreclosure and emerge at the end of the Chapter 13 case current on all of their debts.
The challenge with Chapter 13 lies in completing the plan laid out by the bankruptcy court. Chapter 13 is a repayment plan, and you are responsible for paying what you are required to pay in your Chapter 13 plan. In some cases, the payment is substantially less than the total amount of debt, and the remaining balances are discharged at the end of the case. Another benefit is that you don't have to pay or interact with all of your creditors directly. A trustee is appointed to mediate between you and your creditors and disburse your Chapter 13 plan payments among your creditors. When you give your trustee the final payment and complete your plan, so long as you have completed a few other simple requirements, the court discharges any remaining dischargeable debts.
Types of debts that can be discharged in bankruptcy:
Credit card debts
Personal loans
Medical bills
Utility bills
Contractual obligations
Property damage debts
Prior bankruptcy debts
Social Security Overpayment debts
There may be more!
Types of debts that can't be discharged in bankruptcy, but can be paid over time through a Chapter 13 plan:
Child support payments
Spousal support payments
Student loan debts
Most tax debts
Criminal fines and penalties
Criminal restitution
Your Credit Report
Regardless of which bankruptcy option you choose, your credit score is going to be affected. A bankruptcy shows up on your credit report for 10 years after the date it is filed. The good news is that by the time you finish your Chapter 13 bankruptcy, it will only be on your credit report for 5-7 more years.
It is not a foregone conclusion that bankruptcy will hurt your credit overall. It is a negative mark, but eliminating debts also improves your score, which can counter-balance. I just attended a bankruptcy meeting with a client yesterday who gleefully pulled up his credit score on his phone and showed me it had increased by around 200 points after he filed bankruptcy.
Bankruptcy will not prevent you from ever qualifying for a loan again. Many of the people who consult with me are concerned that they will not be able to qualify for a loan if they need one, such as if their car needs to be replaced. Most bankruptcy debtors can qualify for a car loan again with little to no difficulty.
Schedule a Consultation
Contact Scaringi Law if you're interested in filing for bankruptcy or want more information about your options. Our bankruptcy lawyers can represent clients in Chapter 7, Chapter 11, and Chapter 13 cases. We can help you file your claim, complete your chosen bankruptcy process, and educate you on your financial options once your plan is completed.
We're available 24/7! Contact Scaringi lawat (717) 775-7195 to ask about a free case evaluation.
Posted By
Kelly M. Walsh, Esq.
Categories: