Why Hire An Attorney To Arrange Self Surrender?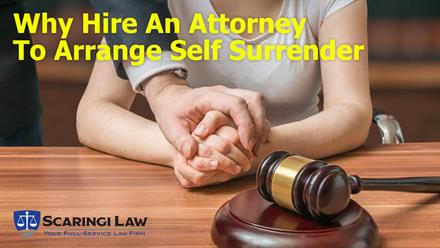 Over the years, I have had numerous people contact me and tell me they have somehow learned that they are wanted by the police. Usually, the situation is not someone that is actively on the lam from the law. It may be that the police have filed charges and have an active arrest warrant but have just not yet made serious efforts to take the accused into custody. In many instances, police may even just attempt phone contact and request that the accused turn themselves in to authorities.
If you find yourself in this situation, my advice is almost always to turn yourself in, but with a caveat. Simply showing up to the police station to turn yourself in may lead to prolonged confinement either at the station or, if no judge is available to preliminarily arraign you, at the local jail. Utilizing the services of one of Scaringi Law's experienced criminal defense attorneys to contact the police and the judge first, and arranging a time to turn yourself in at the judge's office is the most effective way to stay out of prison. You will avoid the risk of becoming detained at the police station or local jail by going straight to the judge. You will have also demonstrated to the judge your willingness to appear for court to face the charges, which will hopefully give the judge comfort in setting bail in such a way that allows you to remain out of prison at least while the charges are pending.
If you find yourself in this situation contact Scaringi Law at 717 657 7770 to schedule a consultation.
Posted By
Scaringi Law
Categories: