What's An Injunction?!?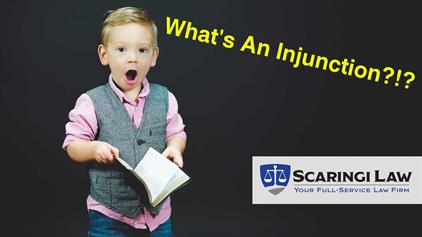 By Brian C. Caffrey, Esq.
An injunction is an order of a court commanding someone to stop doing something or, less frequently, to do something. There are temporary (or preliminary) injunctions and permanent injunctions. A "temporary restraining order" is a type of preliminary injunction.
An injunction is an extraordinary remedy. The party seeking an injunction bears a heavy burden of proof to obtain one. The party must convince the court there is no adequate legal remedy, such as damages, that can resolve his problem, and the court must act in order to do justice. A common type of injunction is an order to stop blocking or interfering with a private road. An order to abate (i.e. reduce or remove) a nuisance, for instance, a flow of water or sewage, is another.
If you're seeking an injunction or defending against for one, fast action is necessary. A court will typically schedule a hearing to be held within a matter of a few days.
I have been on both sides of injunctive matters, both seeking them and defending against those seeking them. If you find yourself either in need of an injunction or are faced with defending one, call our office 717 657 7770 to schedule a consultation with a Scaringi Law Attorney.

Posted By
Brian C. Caffrey, Esq.
Categories: