Intoxication Is Not a Legal Excuse, However…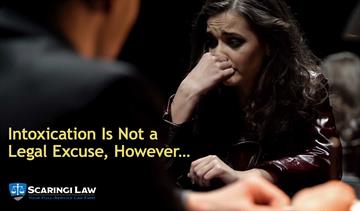 In Pennsylvania, voluntary intoxication is not a defense to a criminal charge. In other words, being drunk or on drugs cannot be used as an excuse in court to fight a criminal charge. In the event, however, that someone is literally drugged, unbeknownst to them, and commits a criminal act due to the resulting intoxication, this involuntary intoxication can be used as a defense.
One notable exception in which voluntary intoxication may be used as a defense is "whenever it is relevant to reduce murder from a higher degree to a lower degree of murder." 18 Pa.C.S. 308. For example, someone being extremely drunk when committing murder could later argue in court that they were so intoxicated that they could not form the specific intent to kill required for a first-degree murder conviction. This would not, of course, mean the murderer would get off scot free – the likely outcome would be a conviction for a lesser degree of murder in this scenario.
It is also important to note that, in any criminal case, the police and/or prosecutors may be willing to consider one's level of intoxication as a mitigating factor in determining what kind of plea negotiation they are willing to engage in. They may recognize that someone's criminal act was out of their character and resulted from intoxication, and make a favorable plea offer.
If you are facing a criminal prosecution involving intoxication, contact Scaringi Law's criminal defense attorneys at 717 657 7770.
Posted By
Scaringi Law
Categories: