Mortgage Companies Must Disclose Fees or Beware in Bankruptcy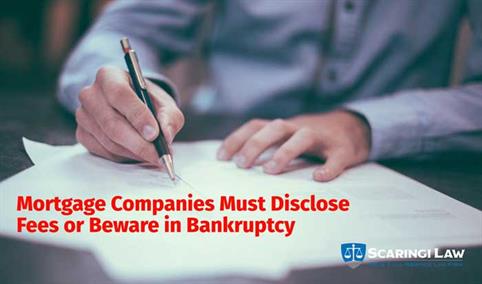 By Kelly M. Walsh, Esq.
In 2011, a new rule was added to the Federal Rules of Bankruptcy Procedure that represented a shift from "debtor beware" to "creditor disclose." If the debtor and their counsel pay attention and use this rule to its full potential, it is the creditor who needs to beware.
Mortgage companies are often specially situated in bankruptcy cases, particularly in Chapter 13 cases, which are lengthy and involve payment plans. Assuming the debtor wants to keep their house, they have to keep paying their mortgage, as well as the costs and fees that go along with it. Historically, this resulted in the problem that bankruptcy debtors found themselves at the end of their Chapter 13 cases surprised to find out they owed a lot of additional money that their mortgage company never told them about, and perhaps facing a foreclosure they did not see coming. A new rule was added to put a stop to that. Now mortgage companies have some special obligations to disclose every change or charge that may occur and let the debtor know where they stand on their mortgage.
A mortgage company is required by Rule 3002.1 to give notice, subject to time limits, of various important changes to a bankruptcy debtor's payment obligations during a bankruptcy. The debtor's mortgage payment cannot be changed, such as for escrow deficiencies or an adjustable interest rate, unless the mortgage company files a notice in the bankruptcy case at least 21 days prior to the change taking effect. A mortgage company cannot pursue fees, expenses, or charges unless it files a notice no more than 180 days after the date the fees, expenses, or charges were incurred. The mortgage company can also be made to file a notice at the end of the case identifying to the court if the debtor is current on all amounts or if there are any amounts still remaining owed.
Each of these required disclosures are subject to the right of the debtor to challenge the amounts claimed to be owed by a mortgage company, and the amounts the mortgage company never properly claimed. If the debtor succeeds, they can not only preclude the mortgage company from recovering the amounts alleged owed, but they can force the mortgage company to pay the debtor's attorney's fees.
In a couple of recent cases, I have represented clients with challenges under this rule. In one case, the mortgage company attempted to obtain Relief from the Automatic Stay and presented figures to the court in which they tried to hide the fact they had been improperly applying the debtor's payments to undisclosed fees by reducing the amount of payments they reported to the court. In another case, a mortgage company waited until the end of a five-year bankruptcy to claim it was entitled to almost $30,000 of post-petition mortgage fees, expenses, or charges that were never properly disclosed during the case. In both cases, the mortgage companies must forfeit those fees, and pay the debtor's attorney's fees to boot.
This rule is ripe for litigation. Even though it has been in effect for about eight years, not all mortgage companies have perfected their compliance with the rule. Chapter 13 debtors should keep a watchful eye on any mortgage statements they receive, and alert their attorney if anything looks suspicious.
If you are thinking about filing bankruptcy, go to an attorney who will protect your rights and make sure your mortgage company does not get away with any hidden fees. Call Scaringi Law at 717-657-7770 to ask about a free consultation today.

Posted By
Kelly M. Walsh, Esq.
Categories: