Pa Democrats Introduce Gun Registration Bill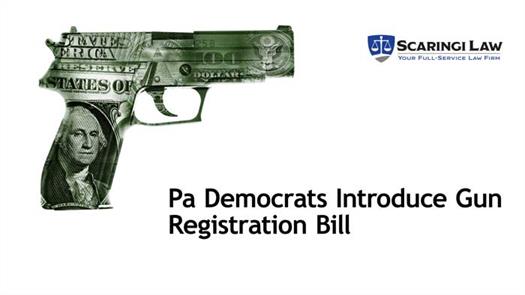 By Brian C. Caffrey, Esq.
Last month Democratic members of the Pa. House of Representatives introduced a bill calling for registration of every firearm in the Commonwealth of Pennsylvania House Bill 768 would require gun owners to pay $10 to register each gun they own on an annual basis.
These measures would themselves be a significant infringement of gun rights; however, there is even more harm in this draconian gun-control measure. Under the bill, unless a gun owner were possessing a firearm in his or her home or place of business or participating in competitive shooting event, he or she would be required to render the firearm useless.
Of course, the government, the police, and private security officers would be exempt from the requirements of the proposed law.
This ill-conceived proposed legislation would render members of our community—students, employees, and churchgoers—even more vulnerable than they already are to bad people with guns. It is another gun control measure that wouldn't protect anybody and would punish law-abiding citizens in the exercise of their rights under the Pennsylvania and United States Constitutions. This bill can only be seen as a prelude to gun confiscation.
If you have questions about your Constitutional right to keep and bear arms, call our office 717 657 7770 to ask about a free consultation.

Posted By
Brian C. Caffrey, Esq.
Categories: