Give Yourself the Gift of Financial Stability This Year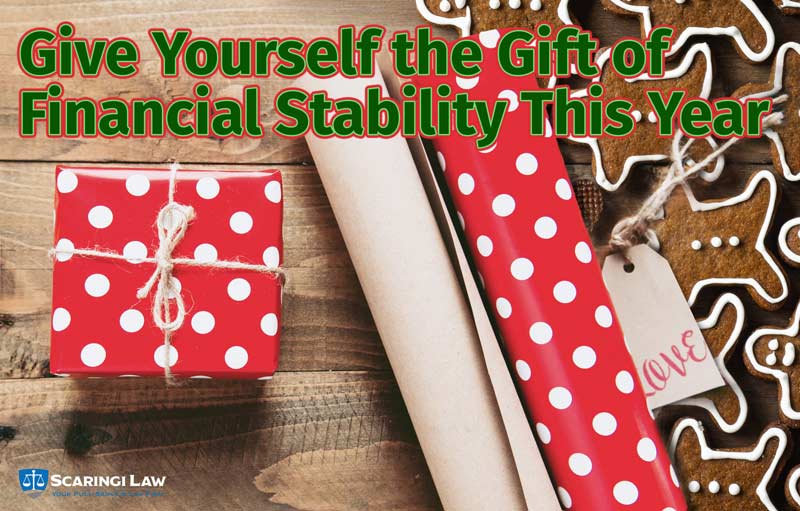 As we are putting together our holiday feasts and rushing out to get a few more presents for our loved ones, it is a fun and festive time. However, make sure you do not lose sight of your budget. Between holiday spending and rising utility bills in the winter, December is typically the most expensive month of the year. Many people fall into the holiday juggling act of overspending in December, neglecting a couple of bills, and hoping to be rescued by their tax refund a few months later. If that juggling act does not go perfectly, they are likely to find themselves in trouble with creditors and contemplating bankruptcy at the start of the new year. At times like these, it is a good idea to balance festivity with a measure of restraint and financial planning. To help with your holiday financial planning, perhaps you should visit your own ghosts of Christmas past, present, and future.
The Ghost of Christmas Past
It can be beneficial to look back at your own personal patterns in past holiday seasons. Have you traditionally been able to maintain a balance of Christmas cheer that fell within your budget, or have you historically gone overboard? Have you ever let your mortgage payment slip in December and hoped the creditor would let it slide? How hard have you been hit by winter utility bills? If you did fall behind, how long did it take you to catch up? Your past finances can reveal patterns and be a guide for how you should manage your current and future finances.
If you have historically overspent, you should look at how far overboard you went and reduce your gift giving budget accordingly. Keep in mind that you have to pay interest on any credit cards that carry balances and late fees on any bills you miss entirely. A little overspending adds up to a lot more once those are added in.
If you must engage in a juggling act for your holiday finances, make sure your priorities are in order. It is most important to make sure the mortgage is paid, the car loan stays current, and the utilities stay on. If you have old tax debt you are paying on, you need to keep up on your installment plan payments. Only after those priority expenses have been paid should you divide up the extra among credit card bills.
The Ghost of Christmas Present
You should not only look at past years' finances, but also the current year. Take stock of how much you have already spent, and how much you still need to spend before the end of the month. In addition to looking at the trends from past years, look at what you have in the bank right now and what you expect to come in before the end of the month. Consider any changes that have happened in your finances since last year. Did you have a change in employment? How much did your income increase or decrease compared to past years? These considerations should guide your budget for the current year. If you did get a raise or a Christmas bonus, don't lose sight of the actual dollar amount. It is easy to get excited about extra money and end up spending more than you had to spend. Make sure you know how much you have left to spend before you spend it.
The Ghost of Christmas Future
It may be too late to make adjustments to better your position this year, but you can make changes now to avoid falling into the same patterns again next year. Set a budget for next year's holiday spending and stick to it. Consider buying gifts earlier in the season and stowing them away to spread your costs out over more time. Many retailers increase prices around the holidays, so buying earlier can also mean getting the same gifts for less money.
Trimming the Groceries' Bill
Some people grow some of their own fruits and vegetables to cut back on food costs. Not everyone has the land and ability to do that, but there are other options available. I save money on my holiday feast and other meals throughout the year by buying produce directly from the farm through a CSA share. It costs less than purchasing the same items from the grocery store and you can freeze extras to last through the winter.
Keeping Your Gingerbread House Warm
If you have trouble with heating bills getting out of hand in the winter, talk to your electric and oil/gas companies about how to maximize your home's energy efficiency and average your cost over the year for a more predictable utility payment. Proper maintenance of a heating and cooling units can lower costs over time. Adding insulation can also help heating/cooling efficiency. There is also the "dad answer" to lowering a heating bill: wear a sweater.
Keep at it the Whole Year Long
Look over your finances generally to see if there are any ways to cut back on year-round expenses. Little differences per week add up to large totals per year; $20 a week is $1040 a year.
Hopefully these adjustments will be enough to put you in better financial health to avoid the need for bankruptcy. Even if you do end up filing bankruptcy, though, this is a necessary process. Bankruptcy case law indicates some reasonable belt-tightening efforts should be made before you resort to filing bankruptcy, to help show the bankruptcy is not filed in bad faith.
If budgeting and belt tightening is not enough, bankruptcy can be a way to give yourself a fresh start and put you in a better position to meet your obligations as they come due going forward. Call our office at 717-657-7770 to ask about a free initial consultation if you would like to consider filing for bankruptcy.
Posted By
Kelly M. Walsh, Esq.
Categories: