Have you "Factored" this into the Custody Equation?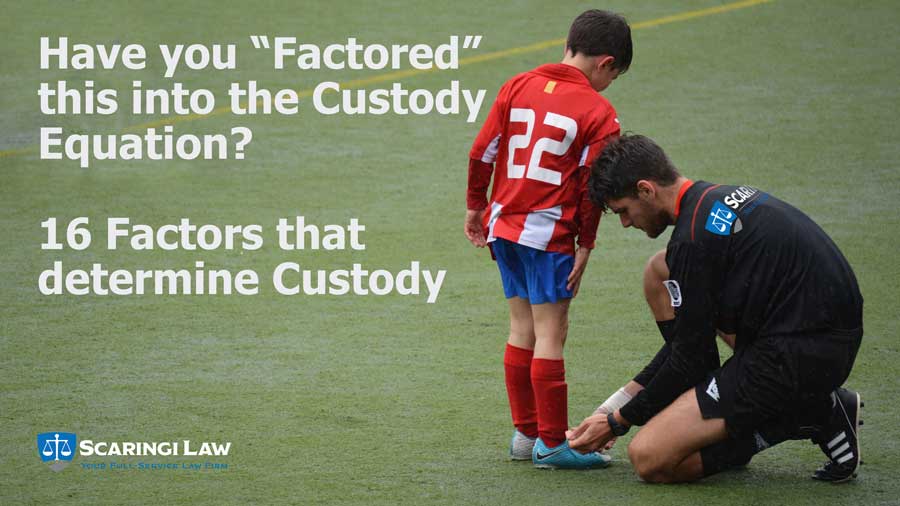 16 Factors that Determine Custody
Did you know that in Pennsylvania now, a custody Court MUST, not 'may,' consider 16 Custodial factors before making a decision in a child custody case? They must consider all of the evidence set forth and discuss each and every factor. Some of them may surprise you! I will discuss each factor as a Court would. Having worked three years for a Judge charged with Family law cases, here is how we approached each factor.
1. Which party is more likely to encourage and permit frequent and continuing contact between Child and the Other Party.
In cases where the parents disagree about everything, it is important to note that a Court will evaluate how reasonable you have been. Each parent has a right to spend quality time with their child, absent extenuating circumstances. Like it or not, like him/her or not, a Court is looking out for the best interest of your CHILD. The presumption is that a child needs both parents! The more accommodating you are, the more the Court will favor you in this factor.
2. Abuse committed by a party or a member of a party's household.
Many parents engage in new relationships. Your new paramour or spouse are a part of the equation. Did they abuse their former spouse or a child from that relationship? Are there referrals to Children and Youth? They may explain it away to you, but it is a factor!
3. The parental duties performed by each party on behalf of the child.
How active are you in your child's educational, medical and social life? Do you attend all Doctor visits? Are you up to date on your child's medical conditions, if any? Do you attend school activities? Are you active in their educational program? Do you attend your child's extra-curricular activities?
4. The need for stability and continuity in Child's education, family life and community life.
Remember, a Court is looking what is in the best interest of your child. Are you the parent who is always involved in the education and family life of your child or are you a part-time parent? Save your excuses as the Court doesn't want to hear them!
5. The availability of extended family.
Another critical factor. How active is your family with the child? Are there step-siblings the child has a relationship with? How available is family to help you with the child?
6. The child's sibling relationships.
Again, are their siblings? Who has custody? Are their step-siblings or half-siblings (brothers and sisters)? Is there a relationship with your child and their extended sibling family?
7. The well-reasoned preference of the child based on the child's maturity and judgment.
Most Courts will interview your child in chambers without the parents present and sometimes without the attorneys present. "Out of the mouths of babes" would surprise you! A Court can tell when a child has been "coached". Do not try to influence a child in a Court proceeding, it will backfire on you! Most children want a relationship with both Mommy and Daddy! The older the child, the more "say" they have in the case. On many occasions a well-spoken child will sway a case. Children are very observant and if not too shy, do not hold anything back when speaking to a Judge with Mom and Dad not present!
8. The attempts of a parent to turn the Child against the other parent, except in cases of domestic violence where the reasonable safety measures are necessary to protect the child from harm.
This is called ALIENATION! Courts do not like parents speaking ill of the other parent. Your children hear everything, not just what you say to the other parent, they also hear what you say about their Mommy or Daddy to your other family members or friends! Divorces and break-ups can get nasty. Relationships between exes can get nasty…but keep the child out of it! Remember, the Court's focus is on the best Interest of your child or children.
9. Which party is more likely to maintain a loving, stable, consistent and nurturing relationship with the child adequate for the child's emotional needs.
This factor seems repetitive, but it is not. The primary focus with this factor is the "emotional" need of your child. Meeting their physical and educational needs are one thing, but is your child emotionally stable and happy?
10. Which party is more likely to attend to the daily physical, emotional, developmental and special needs of the child.
This factor is somewhat repetitive. My Judges used to utilize this factor for children who had special needs, be they educational, physical, emotional or mental.
11. The proximity of the residences of the parties.
The latest trend these days is for parties to have basically a 50/50 arrangement. You may not like it, but it is reality. This usually means one week with Mom, one week with Dad. If the parties live in close proximity to each other this factor is facilitated. If the parties do not live near each other anymore, the Court will consider which parent moved away. The Best Interest of a Child means in part stability…same school, same neighborhood and same friends.
12. Each party's availability to care for the child or ability to make appropriate child care arrangements.
This is another critical factor. It ties into the factor of nearby family. Courts do not want your child spending any unnecessary time in a day care. It is understandable in this day and age with both parents working, day care is a way of life. However, if you have a close family member available, Grandma or Grandpa available or even a sister or brother available this factor will weigh in your favor.
13. The level of conflict between the parties and the willingness and ability of the parties to cooperate with one another.
If you wind up in Court arguing over custody and visitation, there is conflict. A Court must weigh who is causing more conflict. The more you have a willingness to cooperate with the other parent, the more the Court will look favorably upon you!
14. The history of drug or alcohol abuse of a party or a member of a party's household.
This is just not limited to you or the other parent. Note, it says "household"! Your current living arrangement factors into the equation. If your new significant other or anyone else in your household has a history of drug or alcohol abuse, a Court is going to consider this.
15. The mental and physical condition of a party or member of a party's household.
This factor is very similar to the previous one, but it deals with the physical and mental characteristics of your household. If a new live-in has physical problems, are they able to care for the child? If a new live-in has a past of some mental issues, are they a threat to the child? Once again, the Court's focus is on the Best Interest of your child, NOT YOURS!
16. Any other relevant factor.
This is the "catch-all" factor. Sometimes an issue comes up that is not covered by the previous fifteen factors. Sometimes this may be the deciding factor!
CONCLUSION
A Court must weigh all of these factors. A Court in its decision usually will state "This factor weighs in favor of either parent". A Court will then weigh all the factors in reaching its decision. The only focus of the Court is "what is in the best interest of this child", NOT YOU! Courts spend more time considering these types of cases than almost any other as a child's interest is at stake!
At the Scaringi Law firm, we have several lawyers with extensive experience with child custody. When it comes to the Best Interest of Your Child, do not settle for anyone else to represent you! We will seek to protect and preserve the Best Interest of your Child! Call 717 657 7770 for a free consultation.

Posted By
John P. Muncer, Esq.
Categories: